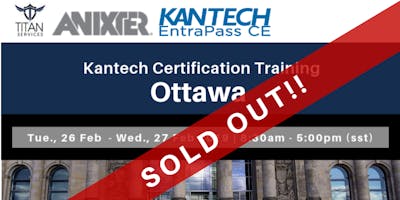 Ottawa Kantech CE Certification - Anixter
Tuesday, February 26, 2019 at 8:30 AM - Wednesday, February 27, 2019 at 5:00 PM (SST)
More Information →
Please Note:
Promo Code available for those wishing to attend both the Kantech CE Certification Course and the Kantech Advanced Class offered back to back. Please contact your local Titan Products Group Rep for details prior to registering for either class.
KANTECH Corporate Edition Certification training overview:
Configure

and program up to a 12 door system with cards, access levels and schedules in just 1 hour

Will complete 4 mini-tests and a Final Exam to receive their certificate

Will be provided Integration highlights including DSC Intrusion and American Dynamics and/or ExacqVision video

Deployment and use of EntraPass Web and EntraPass Go (and Go Install)
This is a two-day training from 8:30 am to 5:00 pm eastern time zone each day

Best Practices for Access Control scheduling, device naming, & maintenance

Will learn field based design, recognize configuration problems AND trouble-shoot them right in the classroom
Students 
will learn the fundamentals to install and work with KANTECH with Confidence! 
Attendees must bring their OWN laptop with ADMINISTRATIVE RIGHTS and the following minimum requirements:
Operating systems: Windows 7 Pro 32 and 64-bit with latest Service Packs, Windows 8 & 10 PRO or Better
Processor: Dual Core minimum
2 GB RAM
Network Interface card and 2 unused USB Ports are required • Minimum free hard disk space: 20 GB
Screen resolution: 1024 x 768 minimum; 1920x1080 best
Titan-Kantech Training Policy:
Training is offered to Kantech's Integrators and their customers only.
Kantech Training may be attended by End-Users but only Integrators will receive Certification upon completion. End-Users will be provided a certificate of completion. Kantech Technical Support is available to Kantech Certified Integrators only.
The EntraPass Corporate Edition certification follows the Integrator ONLY if still an Access Control Integrator.
Titan Services, at its sole discretion, can refuse attendee request for any reason. In that case, Titan Services sole responsibility will be limited to refunding the paid tuition fee in full. The attendee will be advised.
You must be a registered participant in order to attend a class. Full tuition is charged at the time of registration. Walk-ins are not permitted. Basic Windows knowledge is required.
Titan Services may cancel training when necessary. In that case, Titan Services sole responsibility will be limited to refunding the paid tuition fee in full or registering the participants into the next available class if desired. If a course is cancelled, we will make every effort to notify participants within a week prior to the training.
100% attendance is required for successful course completion. If a participant fails to show up for training or fails to complete the entire training, no refund will be given
Lunch is provided during the training
*The training will be in English